TECHNICAL SPECIFICATIONS
Issue Date: 25 January 2021
Designer Artist: Jamile Costa Sallum – Post Office
Sheet Composition: 20 stamps
Stamp Size:
Printing Method: Offset lithography
Perforation: comb
Printer:
Quantity: 400,000 stamps
The stamp features an iconic black-and-white photo of John Lennon, taken by photographer Bob Gruen in 1974. In the upper left corner is the logo and name of the MIS display. Photography and computer graphics techniques were used.
Technical characteristics:
Department/Section

:

Stamps | Issue 2021

Code

:

2690376 – 852013221

Weight:

10 grams

Cubic weight:

0 grams
Date of issue

:

25/01/2021

Technical Information

:

NOTICE: 01/21

Artist

:

Jamile Costa Sallum – Post Office

Role

:

gummed cuchê

Sheet:

with 20 stamps

Drawing :

400,000 stamps

Face value

:

2nd Letter Size (PPC)

Launch locations

:

Sao Paulo/SP

Printing process:

ofsete

John Lennon and postage stamps: a history from the 1950s to the present
Text and translation by Mayra Guapindaia
Today, January 25, is officially released the special postage stamp John Lennon in NY by Bob Gruen. This issue had the partnership between the Post Office and the Museum of Image and Sound, of São Paulo. The label is part of the actions taken to mark the exhibition of the same name, currently on display in the museum. It can be purchased at the main post offices, in the MIS store and in our online store.
John Lennon: a great honoree for the world's post-stamps
The Brazilian issue joins the hall of international posted stamps that focused on John Lennon. Several countries made the tribute, demonstrating the importance of the singer to the whole world. In research to the world catalog of postage stamps, Stamp World Catalog,it is possible to find 195 emissions from various locations around the world. The last label in honor of the singer is 2018, released by the U and also reproduces a photo of Bob Gruen. Here are some of the stamps: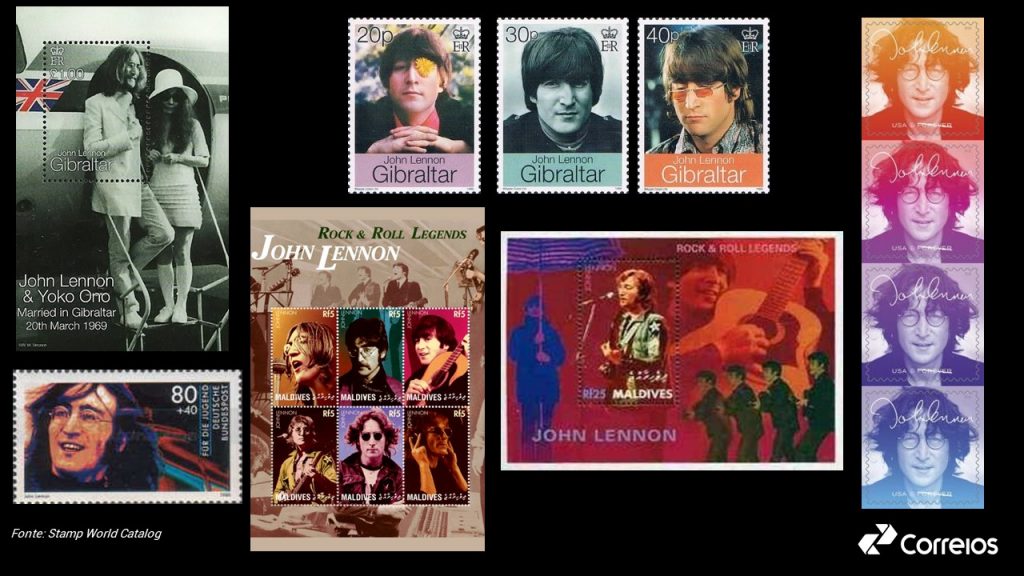 John Lennon's story is linked to postage stamps not only because he was one of the most honored personalities by postal administrations in the world. The former Beatle, as a child and living in Liverpool with his aunt Mimi, adopted a hobby of philately. When he was about 9 or 10 years old, he kept a collection of postage stamps from around the world, wrapped in his own album. Currently, this album is part of the Smithsonian's National Postal Museum collection in Washington, D.C.. You can consult it in full on the institution's website.
The ties between the rock star and Brazilian philately are also close when we discover that little John had Brazilian stamps in his collection. We can conjecture how these stamps, most dating from the late 1940s, early 1950s, helped Lennon build knowledge and an imaginary about a country so far from his own, in which he never had the opportunity to be alive.
On the page dedicated to Brazil, we can see 17 national stamps. Most of them are regular, with only one commemorative. It makes sense for Lennon's greater contact with regular stamps. These, although less appealing to collectors, because they have no commemorative themes, have a larger circulation and thus can circulate more around the world, especially in correspondence.
The oldest stamp, which depicts the Republican journalist Aristides Lobo, according to information from the RHM stamp catalogue, was printed between 1906 and 1917. John had more of the stamps of the 1920s, one with the theme "aviation" and the other depicting the God Mercury.
The other stamps are contemporary to John Lennon, most released between 1947 and 1950. He had a series of regulars the portrayed the "national riches", as understood and disseminated by the Brazilian State, which at the time was experiencing its second democratic phase, after the end of the dictatorship of Getúlio Vargas. Lennon was able to discover that, economically, Brazil was known for trade, steel (he had stamps in this theme in 3 different colors), oil and wheat (in two colors). From the same time, 1950, there is a stamp of the second Brazilian president, Marshal Floriano Peixoto.
Finally, the only commemorative issue of the collection is a tribute to the inauguration of the Post and Telegraph Building in Pernambuco.
So we see how the story of John Lennon and the post-stamps are intercrossed. From philatelist as a child to being a great honoree on postage stamps in several countries, because of his important contribution to world music. And now, through the MIS exhibition and the issuance of the Brazilian stamp, John Lennon has a milestone in national philately. The rock star is immortalized in a special issue made by the country he met through the stamps of his childhood collection.
Bob Gruen (born 1945) is an American author and photographer known for his rock 'n' roll photographs. By the mid 1970s Gruen was already regarded as one of the foremost photographers in music working with major artist such as John Lennon, Tina Turner, The Rolling Stones, Led Zeppelin, Elton John, and Kiss. He also covered emerging New Wave and Punk rock bands, including the New York Dolls, The Clash, Sex Pistols, Ramones, and Blondie. Gruen has also appeared in films.
Gruen was born and raised in New York. After he dropped out of college and quit his job in a photo booth at the New York World's Fair in Queens, he attended the 1965 Newport Folk Festival and took photographs of Bob Dylan performing.
Gruen credits Ike Turner with starting his career. He first saw Ike & Tina Turner perform at Madison Square Garden during the Rolling Stones' American tour in 1969. In 1970, Gruen took photographs of them performing at the Honka Monka nightclub in Queens. He showed Turner the photographs and was invited to photograph them in California. "Ike introduced me to the publicist for their record company who took me to parties and introduced me to more people in the music business," he said. Gruen developed a friendship with the Turners and shot the cover of their 1971 album 'Nuff Said. In 2012, Gruen released Ike & Tina On The Road: 1971–72, a documentary he and his then-wife Nadya filmed of the Turners at their home and on tour.
Gruen served as John Lennon's personal photographer during his time in New York City in 1971. Gruen is best known for his photograph of Lennon wearing a New York City T-shirt in August 1974. Other notable celebrities and rock bands photographed by Gruen include the New York Dolls, The Clash, Ramones, Sex Pistols, Patti Smith Group, Sonny & Cher, Blondie, Led Zeppelin, The Who, David Bowie, Elton John, Aerosmith, Kiss, Alice Cooper, Courtney Love, and Green Day.
Since 1980, Morrison Hotel Gallery has been the primary representative for Gruen's photography. His work is included in the collections of the National Portrait Gallery in London and the Museum of Pop Culture in Seattle.
In 2008, Gruen's Rockers, a 280 photograph installation, exhibited at Morrison Hotel Gallery in New York. From December 2011 to January 2012, the Fahey/Klein Gallery in Los Angeles held an exhibition of Gruen's photographs from his book Rock Seen. His photographs have been exhibited at various art galleries and museums internationally, including the Museum of Modern Art in New York, the Brooklyn Museum, Sotheby's S/2 Gallery London, the Morris Museum in New Jersey, Shelburne Museum in Vermont.
In 2020, Gruen released his memoir Right Place, Right Time: The Life of a Rock & Roll Photographer.
John Winston Ono Lennon (born John Winston Lennon on 9 October 1940 – 8 December 1980) was an English singer, songwriter, musician and peace activist who achieved worldwide fame as the founder, co-lead vocalist, and rhythm guitarist of The Beatles. His songwriting partnership with Paul McCartney remains the most successful in history. In 1969, he started the Plastic Ono Band with his second wife, Yoko Ono. After the Beatles disbanded in 1970, Lennon continued his career as a solo artist and as Ono's collaborator.
Born in Liverpool, Lennon became involved in the skiffle craze as a teenager. In 1956, he formed his first band, The Quarrymen, which evolved into The Beatles in 1960. He was initially the group's de facto leader, a role gradually ceded to McCartney. Lennon was characterized for the rebellious nature and acerbic wit in his music, writing, drawings, on film and in interviews. In the mid-1960s, he had two books published: In His Own Write and A Spaniard in the Works, both collections of nonsense writings and line drawings. Starting with 1967's "All You Need Is Love", his songs were adopted as anthems by the anti-war movement and the larger counterculture.
From 1968 to 1972, Lennon produced more than a dozen records with Ono, including a trilogy of avant-garde albums, his first solo LP John Lennon/Plastic Ono Band, and the international top 10 singles "Give Peace a Chance", "Instant Karma!", "Imagine" and "Happy Xmas (War Is Over)". In 1969, he held the two week-long anti-war demonstration Bed-Ins for Peace. After moving to New York City in 1971, his criticism of the Vietnam War resulted in a three-year attempt by the Nixon administration to deport him. In 1975, Lennon disengaged from the music business to raise his infant son Sean and, in 1980, returned with the Ono collaboration Double Fantasy. He was shot and killed in the archway of his Manhattan apartment building by a Beatles fan, Mark David Chapman, three weeks after the album's release.
As a performer, writer or co-writer, Lennon had 25 number one singles in the Billboard Hot 100 chart. Double Fantasy, his best-selling album, won the 1981 Grammy Award for Album of the Year. In 1982, Lennon was honoured with the Brit Award for Outstanding Contribution to Music. In 2002, Lennon was voted eighth in a BBC poll of the 100 Greatest Britons. Rolling Stone ranked him the fifth-greatest singer and thirty-eighth greatest artist of all time. He was inducted into the Songwriters Hall of Fame (in 1997) and the Rock and Roll Hall of Fame (twice, as a member of the Beatles in 1988 and as a solo artist in 1994).
Lennon and Ono moved to New York in August 1971 and immediately embraced US radical left politics. The couple released their "Happy Xmas (War Is Over)" single in December. During the new year, the Nixon administration took what it called a "strategic counter-measure" against Lennon's anti-war and anti-Nixon propaganda. The administration embarked on what would be a four-year attempt to deport him. Lennon was embroiled in a continuing legal battle with the immigration authorities, and he was denied permanent residency in the US; the issue would not be resolved until 1976.
Some Time in New York City was recorded as a collaboration with Ono and was released in 1972 with backing from the New York band Elephant's Memory. A double LP, it contained songs about women's rights, race relations, Britain's role in Northern Ireland and Lennon's difficulties in obtaining a green card. The album was a commercial failure and was maligned by critics, who found its political sloganeering heavy-handed and relentless. The NME's review took the form of an open letter in which Tony Tyler derided Lennon as a "pathetic, ageing revolutionary". In the US, "Woman Is the Nigger of the World" was released as a single from the album and was televised on 11 May, on The Dick Cavett Show. Many radio stations refused to broadcast the song because of the word "nigger".
Lennon and Ono gave two benefit concerts with Elephant's Memory and guests in New York in aid of patients at the Willowbrook State School mental facility. Staged at Madison Square Garden on 30 August 1972, they were his last full-length concert appearances. After George McGovern lost the 1972 presidential election to Richard Nixon, Lennon and Ono attended a post-election wake held in the New York home of activist Jerry Rubin. Lennon was depressed and got intoxicated; he left Ono embarrassed after he had sex with a female guest. Ono's song "Death of Samantha" was inspired by the incident.
While Lennon was recording Mind Games in 1973, he and Ono decided to separate. The ensuing 18-month period apart, which he later called his "lost weekend" in reference to the film of the same name, was spent in Los Angeles and New York City in the company of May Pang. Mind Games, credited to the "Plastic U.F.Ono Band", was released in November 1973. Lennon also contributed "I'm the Greatest" to Starr's album Ringo (1973), released the same month. With Harrison joining Starr and Lennon at the recording session for the song, it marked the only occasion when three former Beatles recorded together between the band's break-up and Lennon's death.
Lennon had settled back in New York when he recorded the album Walls and Bridges. Released in October 1974, it included "Whatever Gets You thru the Night", which featured Elton John on backing vocals and piano, and became Lennon's only single as a solo artist to top the US Billboard Hot 100 chart during his lifetime. A second single from the album, "#9 Dream", followed before the end of the year. Starr's Goodnight Vienna (1974) again saw assistance from Lennon, who wrote the title track and played piano. On 28 November, Lennon made a surprise guest appearance at Elton John's Thanksgiving concert at Madison Square Garden, in fulfilment of his promise to join the singer in a live show if "Whatever Gets You thru the Night", a song whose commercial potential Lennon had doubted, reached number one. Lennon performed the song along with "Lucy in the Sky with Diamonds" and "I Saw Her Standing There", which he introduced as "a song by an old estranged fiancé of mine called Paul".
Lennon co-wrote "Fame", David Bowie's first US number one, and provided guitar and backing vocals for the January 1975 recording. In the same month, Elton John topped the charts with his cover of "Lucy in the Sky with Diamonds", featuring Lennon on guitar and back-up vocals; Lennon is credited on the single under the moniker of "Dr. Winston O'Boogie". He and Ono were reunited shortly afterwards. Lennon released Rock 'n' Roll (1975), an album of cover songs, in February. "Stand by Me", taken from the album and a US and UK hit, became his last single for five years. He made what would be his final stage appearance in the ATV special A Salute to Lew Grade, recorded on 18 April and televised in June. Playing acoustic guitar and backed by an eight-piece band, Lennon performed two songs from Rock 'n' Roll ("Stand by Me", which was not broadcast, and "Slippin' and Slidin'") followed by "Imagine". The band, known as Etc., wore masks behind their heads, a dig by Lennon, who thought Grade was two-faced.
At approximately 5:00 p.m. on 8 December 1980, Lennon autographed a copy of Double Fantasy for fan Mark David Chapman before leaving The Dakota with Ono for a recording session at the Record Plant. After the session, Lennon and Ono returned to their Manhattan apartment in a limousine at around 10:50 p.m. EST. They exited the vehicle and walked through the archway of the building when Chapman shot Lennon twice in the back and twice in the shoulder at close range. Lennon was rushed in a police cruiser to the emergency room of Roosevelt Hospital, where he was pronounced dead on arrival at 11:15 p.m. (EST).
IMAGES
Personal collection
ADDITIONAL INFO
Wikipedia (linked above)